Energy Solution Business
We conduct the energy-saving solution business pivoted on the optimal control of equipment and facilities based on the SMX high-efficiency inverter system and various general-purpose inverters and the energy generation solution business centered on photovoltaic power generation.
ENERGY-SAVING SOLUTION BUSINESS
TSE's energy-saving solution business offers multifaceted solutions, such as energy-saving of lighting, centered on a great many energy-saving of fan pumps, which almost always come with various types of facilities.
ENERGY GENERATION SOLUTION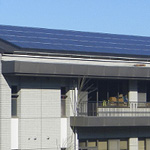 In recent years, expectations on renewable energy have been increasingly growing. TSE's energy generation solution business addresses a whole range of business from designing a photovoltaic power generation system to installing it.