TSE-LAMBDA SHANGHAI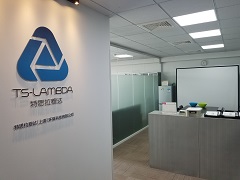 TSE-LAMBDA SHANGHAI is engaged in offering energy-saving solutions, including those by heat source and power systems, such as fans and pumps, and by lighting equipment, in the market centered on the Shanghai area in China. In addition, it also manufactures, sells and exports various types of control panels.
Location
Rm. No. 313 Yong Teng Bldg., 1065 Wuzhong Road, Minhang District, Shanghai, Postal code 201103
TEL +86-21-61315505
Description of Business
Proposing ideas for energy-saving of fan pumps and lighting equipment, system installation and manufacture, sale and import/export of various control panels
Number of Employees
2
TAKAHASHI ELECTRIC
An expert in manufacturing various switchpanels centered on electric power control and substation protective panels. In recent years, the company has steadily chalked up a track record in various types of precise sheet metal processing, including medical equipment, and established itself as a switchpanel manufacturing business and precise sheet metal processing business. Furthermore, it takes charge of sales activities for TSE's energy-saving solution business in the Tohoku region and manufacture of energy-saving panels as well.
Location
1-11, Jumonji Shibukawa, Nihommatsu-shi, Fukushima, 969-1403, Japan
TEL 0243-53-2221
Description of Business
Design, manufacture and sale of control panels, switchpanels and monitoring systems for general industry, electric power and power generation plants, precise sheet metal processing and painting in general.
Number of Employees
134 (95 men and 39 women)
Website
http://www.takahashi-e.co.jp/
Takahashi Seisakujo
The company is engaged in design, manufacture and installation of various industrial machinery and plants centered on conveyance facilities as well as maintenance of equipment for a leading local plant (in Hachinohe City, Aomori Prefecture).
Location
76-344, Hamanayachi Kawaragi, Hachinohe-shi, Aomori, 039-1161, Japan
TEL.0178-28-3035
Description of Business
Design, production, installation and maintenance of conveyance facilities and various plants
Number of Employees
86
Website
http://www.kk-takasei.jp/